While we can develop your e-commerce website better than most; we suggest you to invest in a professional book for growing your business. We're excited to announce that we've teamed up with Amazon to offer relevant books as an affiliate. We've chosen a few for you here:
E-Commerce 2018 by Laudon & Traver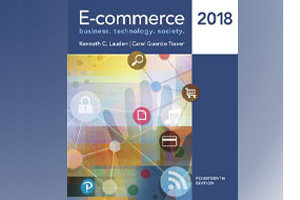 E-Commerce in 2018: Experts' Forecast
Current retail trends show that 51% of Americans prefer online shopping, with ecommerce growing 23% year-over-year. Ecommerce is expected to change at an even faster rate as brands embrace the power of voice search and omni-platform/omni-device options.
Voice assistants are already being used to make purchases by 40% of millennials, with that number expected to exceed 50% by 2020. This transformation of the digital retail landscape will only continue to grow as more consumers integrate digital devices into their shopping habits.
Here are the anticipated retail trends, offline and online, to be aware of.

Trend #1: Entrepreneurial E-Commerce Breakout
Ecommerce will be more important than ever in 2018. Luckily, it's also incredibly easy to get started. Expect to see an influx of e-comm entrepreneurs ready to get their digital feet wet.
Trend #2: Smarter, Faster, Blockchain-Enabled AI
As AI-powered chatbots become even smarter, expect the rise of artificial intelligence chatbot interfaces to continue. Combined with opportunities like blockchain technology, the power of chatbot messaging to fuel the future of retail is nothing short of astounding — the timing is ripe, too.
Trend #3: The Customer Journey Will Get Smarter
From virtual personal shoppers to personal recommendation technology powered by AI software, the future of retail is will indeed be more personalized.
Trend #4: An Even Bigger Year for Amazon
We've only begun to see Amazon's impact on the retail landscape. They're transforming the way brands like Walmart compete and acquire customers; this trend will continue as Jeff Bezos and gang double-down on opportunities like voice-activated shopping and the international expansion of their Prime offerings.
Trend #5: Continued Emergence of Opportunity
Technology will continue to transform the digital landscape. Look for technological advances in everything from sensors to augmented reality (AR) that influence how consumers shop and interact with brands.
Trend #6: Going Beyond Recommended Products
The sentiments of Jimmy Duvall, above, are mutually felt within the industry and ecommerce is poised to see truly individualized recommendations ( the way they were intended to be).
Trend #7: More Subscription Box Models
We'll see more brands adopt a subscription mentality with part of their product inventory. This trend will continue to grow as retailers realize they must compete with subscription offerings if they hope to adapt and survive.
Trend #8: [Video] Content is Still King
2018 will definitely be a year where brands get smarter about measuring their ROI, but expect to see a larger allocation of content, especially video.
This insight roundup gives you a great view on the shifting sands of the retail landscape. Both brands and customers should be well advised to take a long, hard look at the future of retail if they hope to compete in the increasingly crowded retail sector. The times are changing; nowhere is this more evident than in retail.
Snippets from the original article at Forbes.
---
SEO 2018 by Adam Clarke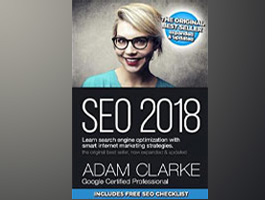 9 Predictions for SEO in 2018
Rand Fishkin's 9 predictions for SEO in 2018:
#1: The total number of organic clicks Google refers will drop by ~5% by the end of the year
In 2017, we saw the start of a concerning trend — fewer clicks being generated by Google search on desktop and mobile. I don't think that was a blip. In my estimation, Google's actions around featured snippets, knowledge panels, and better instant answers in the SERPs overall, combined with more aggressive ads and slowing search growth (at least in the United States), will lead to there being slightly less SEO opportunity in 2018 than what we had in 2017.

I don't think this trend will accelerate much long term (i.e. it's certainly not the end for SEO, just a time of greater competition for slightly fewer click opportunities).
#2: Twitter and LinkedIn will both take active steps to reduce the amount of traffic they refer out to other sites
Facebook, Instagram, and Snapchat have all had success algorithmically or structurally limiting clicks off their platforms and growing as a result. I think in 2018, Twitter and LinkedIn are gonna take their own steps to limit content with links from doing as well, to limit the visibility of external links in their platform, and to better reward content that keeps people on their sites.
#3: One or more major SEO software providers will shutter as a result of increased pressure from Google and heavy competition
Google Search Console is, slowly but surely, getting better. Google's getting a lot more aggressive about making rank tracking more difficult (some rank tracking folks I'm friendly with told me that Q4 2017 was particularly gut-punching), and the SEO software field is way, way more densely packed with competitors than ever before. I predict this combination of factors will mean that 2018 sees one or more casualties (possibly through a less-than-rewarding acquisition rather than straight-out bankruptcy) in the SEO software space.
#4: Alexa will start to take market share away from Google, especially via devices with screens like the Echo Show
Voice search devices are useful, but somewhat limited by virtue of missing a screen. The Echo Show was the first stab at solving this, and I think in 2018 we're going to see more and better devices as well as vastly better functionality. Even just the "Alexa will take away a lot of the more simplistic searches that today happen on Google and Google Images (the latter of which is a silent giant in the US search world).
#5: One of the non-Google tech giants will start on a more serious competitor to YouTube
Amazon's feud with Google and the resulting loss of YouTube on certain devices isn't going unnoticed in major tech company discussions. I think in 2018, that turns into a full-blown decision to invest in a competitor to the hosted video platform. There's too much money, time, attention, and opportunity for some of the big players not to at least dip a toe in the water.
#6: Facebook Audience Network (that lets publishers run FB ads on their own sites) will get the investment it needs and become a serious website adtech player
Facebook ads on the web should be as big or bigger than anything Google does in this realm, mostly because the web functions more like Facebook than it does like search results pages, and FB's got the data to make those ads high quality and relevant. Unfortunately, they've underinvested in Audience Network the last couple years, but I think with Facebook usage in developed countries leveling out and the company seeking ways to grow their ad reach and effectiveness, it's time.
#7: Mobile apps will fade as the default for how brands, organizations, and startups of all sizes invest in the mobile web; PWAs and mobile-first websites will largely take their place
I'm calling it. Mobile apps, for 95% of companies and organizations who want to do well on the web, are the wrong decision. Not only that, most everyone now realizes and agrees on it. PWAs (and straightforward mobile websites) are there to pick up the slack. That's not to say the app stores won't continue to generate downloads or make money — they will. But those installs and dollars will flow to a very few number of apps and app developers at the very top of the charts, while the long tail of apps (which never really took off), fades into obscurity.
#8: Wordpress will continue its dominance over all other CMS', growing its use from ~25% to 35%+ of the top few million sites on the web
While it depends what you consider "the web" to be, there's no doubt Wordpress has dominated every other CMS in the market among the most popular few million sites on it. I think 2018 will be a year when Wordpress extends their lead, mostly because they're getting more aggressive about investments in growth and marketing, and secondarily because no one is stepping up to be a suitable (free) alternative.
#9: The United States will start to feel the pain of net neutrality's end with worse Internet connectivity, more limitations, and a less free-and-open web
Tragically, we lost the battle to maintain Title II protections on net neutrality here in the US, and the news is a steady drumbeat of awfulness around this topic. Just recently, Trump's FCC announced that they'd be treating far slower connections as "broadband," thus lessening requirements for what's considered "penetration" and "access," all the way down to mobile connection speeds.
It's hard to notice what this means right now, but by the end of 2018, I predict we'll be feeling the pain through even slower average speeds, restrictions on web usage (like what we saw before Title II protections with Verizon and T-Mobile blocking services and favoring sites). In fact, my guess is that some enterprising ISP is gonna try to block cryptocurrency mining, trading, or usage as an early step.
Rand Fishkin's original article appeared in Moz.
---
Launch by Jeff Walker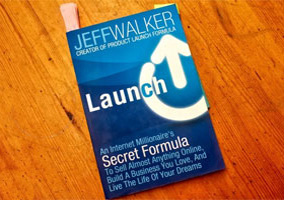 5 Social Media Trends to Expect in 2018
Before you finalize your social media strategy for the year, it's important to look at what's ahead to ensure that you're allocating your time and efforts appropriately.
In this post, we'll dive into what we think social media managers should expect in 2018, and how to plan for these changes.

1. Live video content will only continue to grow.
According to Facebook, live videos receive 6X the engagement as non-live ones, which bodes well for their sharability and potential for such engagement as comments and Likes.
On top of that -- perhaps to help boost this engagement -- Facebook's VP of Product, Fidji Simo, announced last week that the channel would be introducing a Watch Party feature, in which a group of Facebook users can all watch the same video at the same time. However, it's worth noting that Watch Parties can take place even if the video isn't streaming live.
So, does this indicate a decline in live video? Not quite. The only real shift that we expect to see is a potential rise in engagement with live videos after they've already ended -- that is, a group of users who missed the broadcast who all missed it can watch it together later on.
where should you be planning to focus your live streaming efforts in 2018? Well, if Facebook is an important part of your overall social media strategy and you're looking for ways to adapt to the latest algorithm changes, live video is a great place to start (if you haven't already).
As for what to broadcast, there are a lot of brands out there that are nailing this strategy across several use cases. For example, many brands are using Facebook, Instagram, and Twitter to live stream events. This approach aims to keep your followers engaged with your brand by bringing an event they otherwise might not be able to attend directly to their screens.
2. Messaging apps will become a critical communication method.
If you're only thinking about messaging apps such as Facebook Messenger, WhatsApp, and WeChat as alternatives to traditional text messaging, think again -- messaging apps are used by 4 billion users worldwide, and there's a tremendous opportunity for brands to leverage this presence.
More specifically, many brands are using messaging apps to communicate one-on-one with customers which is completely changing the way customer service gets done. These apps provide a faster and easier way for customers to get the assistance they need, rather than being placed on hold or waiting for a returned email. Deploying messaging for customer service is more scalable and cost-effective for businesses, and by providing a better experience for the customer, brands
For example, Hyatt uses Facebook Messenger for 24-hour customer service, where guests can make reservations, ask questions, and get recommendations for their trips:
In 2018 and beyond, marketers should anticipate less social networking -- especially when considering Facebook's recent changes -- and more messaging for instant, real-time connection with audiences.
3. Virtual reality will find its way into more and more marketing experiences.
Virtual reality is still somewhat new to the marketing scene, and in 2018, we predict the market will get even more popular.
According to the Consumer Technology Association's 2018 Tech Trends to Watch, virtual reality is expected to see an 18% increase in revenue, and a 25% increase in units sold.
What's unique about virtual reality is that it encourages engagement by offering an immersive, memorable experience unlike any other medium -- and brands are quickly recognizing that value.
For example, TOMS uses virtual reality to shed light on the mission and impact customers are having. Its mission, "One for One," refers to its pledge to match with each pair of shoes purchased a new pair for a child in need around the world.
If you're already allocating resources to developing more live video this year, continue experimenting with different formats -- including virtual reality -- to see which audiences respond best to.
4. More channels will make it difficult to monetize (and therefore, weaponize) content.
When Facebook announced the aforementioned changes to its News Feed, we predicted that it was largely the scrutiny it's received since it was discovered that the network was weaponized to influence the 2016 U.S. presidential election. And with Pages expected to receive less engagement, that also means it will become more difficult for brands to monetize any Facebook content -- especially since it could require a greater spend on Ads to help that content reach the right audience.
In other words, as social channels are under more and more pressure to make their networks safer to use -- that seems to be translating to it becoming more difficult for brands to gain visibility on them.
We don't anticipate this scrutiny diminishing anytime soon, which means that this trend is something marketers should keep in mind for 2018. But in the face of these higher barriers, the best way to be discovered on social media continues to be by creating high-quality, personalized content that's relevant to the audience you're trying to reach.
5. Voice search and AI will change the way users discover brands and content.
Voice-controlled personal assistants are being built into everything, from smart speakers, to TVs, to mobile devices.
All the while, these voice-powered devices that respond and fulfill our verbal commands are learning more about us. They're learning to differentiate our preferences and tones in households with multiple people, and they're beginning to proactively know what information we might request.
As this type of technology continues to evolve and is adapted by more users, marketers can prepare in a number of ways. To start, begin thinking about what type of social media content can be optimized for consumption via a smart speaker, for instance. Creating a solution to a need that the user might not know it has is core to marketing -- what type of information or content might your target audience seek on social media that's easier when delivered in this manner?
Social media is constantly changing, and one prediction we didn't include above is to prepare for anything.
You can read more at the HubSpot Blog.
---
Overview
Our focus is on Web Development, SEO/SEM and Social Media Marketing. If you're looking for a great looking web presence and an experienced team that can follow through by bringing visitors and returns, BINGO!

Contact Us

206, 2nd Floor, Agrawal Tower
CU Block, Pitam Pura.
New Delhi
Phone No. - 011- 4753 1053
Visit My Sinful Stash for the latest in Unusual Gifts and Geeky Gifts.